Providers of Power Generator Service in Blairstown, NJ
---
Keep Up With Your Power Generator Service & Repairs
When you keep up with timely generator service and maintenance, you can reduce your risk of needing costly generator repairs in the future. But doing your own generator service and repairs can be confusing, time-consuming, and frustrating. At Seidel Electric, we have a team of experts who specialize in power generator service and repairs in Blairstown, NJ. We also offer routine generator maintenance services that will extend the lifespan of your generator, make it run more efficiently, and prevent engine damage and generator failure. If you want to depend on your generator to be ready for you when you need it most, you should schedule regular gas or diesel generator services and maintenance.
Learn How a Generator Works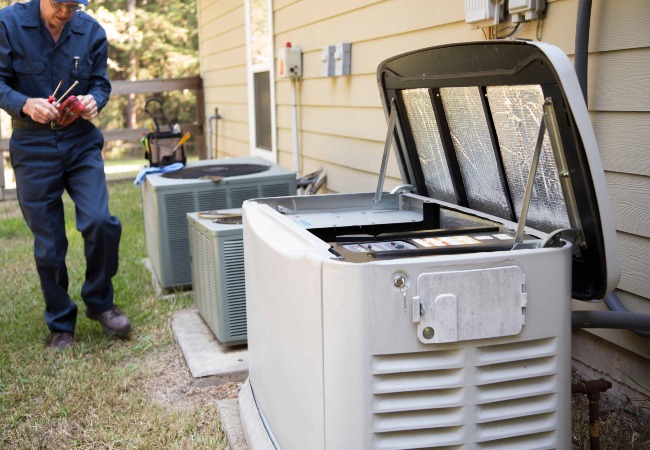 Explore the Power Generator Services We Offer
A generator is a gas or diesel-powered engine that provides power to your home when you can't use electricity. This might be because the power to your home is out or you're outside of a city's electrical grid. A backup generator is connected to your home's power grid and can power the outlets in your home even when the power is out. Backup generators are crucial for families who rely on electric appliances like a CPAP or BIPAP machine, nebulizer, ventilator, or other home medical equipment. A portable generator provides power when you're too far away from your home's outlets, such as in a work shed. It also lets you operate electrical appliances in a mobile home, at a campsite, or elsewhere.
A backup or standby generator produces energy through electromagnetic induction or by moving an electrical conductor through a magnetic field. The generator produces energy by moving a part of itself and transferring it somewhere else. This process converts mechanical energy into electrical energy so you can power appliances without electrical service. A standby generator has an automatic transfer switch that connects to the main power grid and your home's electrical panel. In the event of a power loss, the ATS senses it, disconnects you from the home power, and connects you to the generator. It can take 30 seconds to a minute for the power to turn back on through the generator, so consider installing a battery backup for computers or medical equipment. Depending on the size of the generator, it can be programmed to supply power to the whole home or just specific circuits.
We offer comprehensive power
generator services
to residential customers. Whether you need to install a new generator, schedule routine maintenance to ensure it's ready to go when needed, or get professional generator repair, our team can help. Just call us today if you need any of these generator services:
Generator Inspection and Assessment – We offer free in-home consultations and can inspect your generator to determine if it needs repairs or maintenance.
Generator Oil and Filter Change – Oil and filter changes are integral to routine generator maintenance. They ensure your generator's engine is lubricated and won't overheat and maintain the system's efficiency.
Generator Cooling System Flush – A cooling system flush protects the engine from overheating and the generator from failing. We'll drain the old coolant, clean the internal mechanisms, and refill with new coolant.
Generator Function Test
Generator Running Test Under Load
Generator Installation – We can install backup, whole home, and temporary or portable generators.
Generator Maintenance – You can do some generator maintenance yourself: run your generator for 30 minutes every three months; make sure the gas tank is always full; make sure you have oil and filters on hand; and cover your generator when you aren't using it. We offer specialized generator maintenance services like oil and filter changes, cooling system flushes, and testing and assessments.
Generac Generator Service & Other Brands We Repair
We can install, maintain, and repair all generator brands. We specialize in Generac generator services and Generac inverter generators. We also service these generator brands:
Generac
Eaton
Siemens
Honeywell
Cummins
Briggs & Stratton
General Electric
Kohler
Explore the Benefits of Generator Service & Repairs
Scheduling routine
generator service and repairs
will ensure your generator operates smoothly and efficiently. You can extend your generator's lifespan and reduce your need for generator repairs by keeping up with generator maintenance. Regular generator service and repairs offer these benefits:
Maintain the condition of the generator and engine.
Check for signs of problems before they get bigger.
Prevent fuel problems and overheating.
Reduce the need for costly, time-consuming repairs.
Extend the lifespan of your generator.
Make sure everything works smoothly when you need it.
Prevent engine failure.
Discover Why You Should Choose Seidel Electric
We have provided quality, trustworthy, and dependable electric services throughout New Jersey since 1944. Our customers trust us to provide high-quality services at reasonable prices and exceptional customer service. We develop strong relationships with our customers and community partners, so people know they can rely on us when they have a problem with their electrical system, wiring, generator, circuit breaker, or home automation system. We love meeting new customers and pride ourselves on finding fast, effective, and affordable solutions to electrical problems.
Schedule Diesel Generator Services in Blairstown, NJ
If you need gas or diesel generator services in Blairstown, NJ, call us today at Seidel Electric. We offer free in-home consultations to our community so they can get a risk-free assessment of their home generator or electrical systems. We also offer generator installation, maintenance, and repair services so your generator will always be ready when needed. Just call us today or
contact us online
to schedule an appointment.
Service Area
Serving the Tri-state area
Business Hours
Mon - Sat | 9:00 AM - 5:00 PM