Find Ceiling Fan Electricians in Blairstown, NJ  
---
Seidel Electric's Ceiling Fan Installation and Repair
It is easy to think of a ceiling fan as a permanent fixture, but you have the power to install, remove, or upgrade yours anytime you want. Seidel Electric has expert ceiling fan electricians in Blairstown, New Jersey. With more than 75 years in business, you can expect the highest quality services from us, whether you need a low-profile ceiling fan, an outdoor ceiling fan, or a ceiling fan with lights. Learn more about the services offered by our ceiling fan electricians.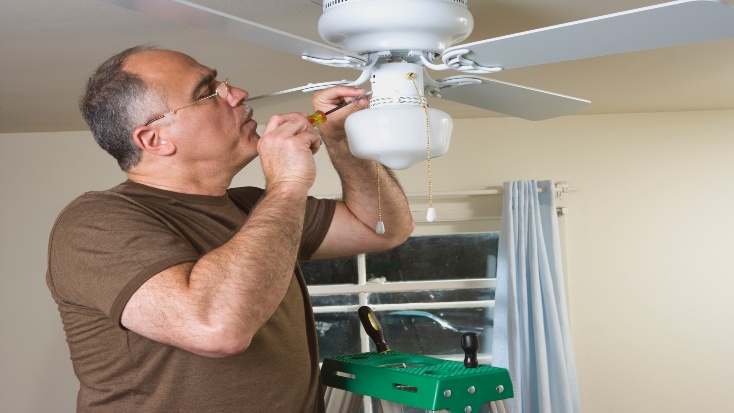 You Can Install a Ceiling Fan in Any Room
If you want to add a ceiling fan to a room, we can help. While it may seem like a big job on your own, our team of
certified and uniform electricians
knows how to install ceiling fans anywhere you want them. We can convert an existing electrical feature, such as a light, into a ceiling fan. On the other hand, we can also install a ceiling fan in an empty location in the ceiling. When you work with an experienced electrician for your ceiling fan installation, they can also help you connect it to a light switch, putting the power to control your ceiling fan at the tip of your fingers.
Need Help With Ceiling Fan Repairs?
If you have a broken or damaged ceiling fan, our team will repair it for you. Many problems could call for a ceiling fan repair. Some are obvious, like when your ceiling fan won't turn on. Other times, a problem may seem minor, like a clicking or squealing noise coming from your fan. No matter what issue you face, our ceiling fan experts will help you diagnose and solve the problem in no time. Our repairs outpace the competition because our trucks are virtual warehouses on wheels. We have all of the most common electrical components with us, so we almost never need to run to a supply warehouse to complete the job.
Replace Your Old or Damaged Ceiling Fan
When your ceiling fan starts to get old and worn out, it might be time to replace it. If it has been a while since you installed a new ceiling fan, you'll probably be blown away by the advanced features available on today's ceiling fans.
Seidel Electric
will work with you to help you select a new ceiling fan, remove your old ceiling fan, and install the new one. We will even connect it to a light switch for you.
We Make Ceiling Fan Installation a Breeze
We make the process of installing a new ceiling fan a breeze. Our ceiling fan electricians will meet with you and walk you through the entire process, leaving you with an upfront quote for the costs. The steps in our ceiling fan installation process include:
Selecting: First, we will help you pick out a ceiling fan that meets your exact specifications, whether you want a ceiling fan with a light or an outdoor ceiling fan.
Prepping: Next, we will clear away a spot in your ceiling for the new fan, whether that includes removing an old light fixture or cutting out a section of the ceiling.
Installing: Then, our team will firmly secure your ceiling fan in place according to the manufacturer's safety specifications.
Wiring: Now, we can perform the wiring and connect your ceiling fan to a switch. We can even install a new light switch for you if necessary.
Testing: Before we leave, we always double and triple-check the ceiling fan to make sure you are happy with the work.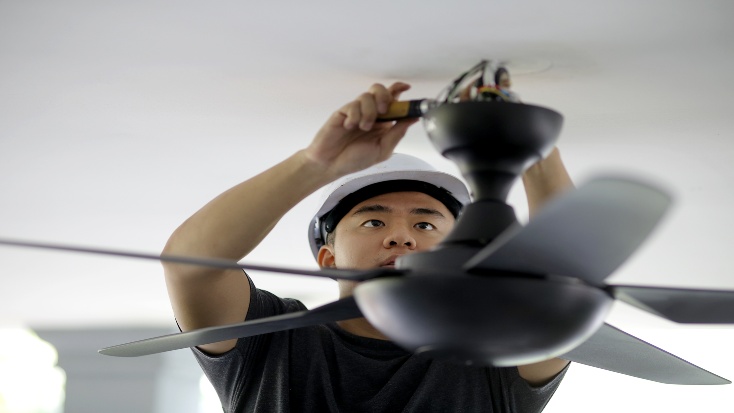 FAQS About Our Ceiling Fan Services
If you haven't used a ceiling fan electrician for installation, repair, or replacement services, you probably have some questions. Seidel Electric is here to answer a few of the most frequently asked questions about our ceiling fan installation services.
How Long Does It Take to Install a Ceiling Fan?
The expected timeline for a ceiling fan project will vary depending on the situation. Once we are ready to start working, we will usually finish the installation in a single visit. However, the process of installing a ceiling fan that blows you away can take a little bit longer if we need to order a specialty mount or a unique ceiling fan. When you meet with us to plan your project, we can give you a personalized timeline for the installation.
Will a Ceiling Fan Reduce My Home's Energy Consumption?
A ceiling fan can drastically reduce your home's energy consumption. A ceiling fan uses far less electricity than any type of AC unit. The breeze a ceiling fan provides will allow you to turn off the air conditioner and rack up the savings.
Is It a Good Idea to Install Your Own Ceiling Fan?
Many amateur handymen ask us if they can install a ceiling fan on their own. While it might seem simple to pick up a Home Depot ceiling fan and install it yourself, it is not a very good idea. Unless you are a licensed electrician, you will have a significant chance of injuring yourself in the process.
Request a Free Estimate From a Ceiling Fan Electrician Now!
At Seidel Electric, we do things in a shockingly different way. As a third-generation, family-owned business, caring for our customers is our top priority. That is why we offer free estimates for all services. We will meet with you, plan your ceiling fan installation, and give you a free breakdown of the costs for the project. Get a
free estimate from a ceiling fan electrician!
Service Area
Serving the Tri-state area
Business Hours
Mon - Sat | 9:00 AM - 5:00 PM