---
Electrical Outlet Fixtures in Blairstown, NJ
Installing Electrical Outlets: It's Not a DIY Job!
We often forget about our electrical outlets until we suddenly can't find an available one to plug in a charger or kitchen appliance. The truth is electrical outlets power most of the comforts in our homes, and they should not be taken for granted. If you need additional outlets or want an upgrade, look to the team at Seidel Electric. Our experts have decades of experience installing electrical outlets for Blairstown, NJ customers. Since 1944, we've believed that success means serving others, and we're excited to serve you as well.
Get Familiar with the Types of Outlets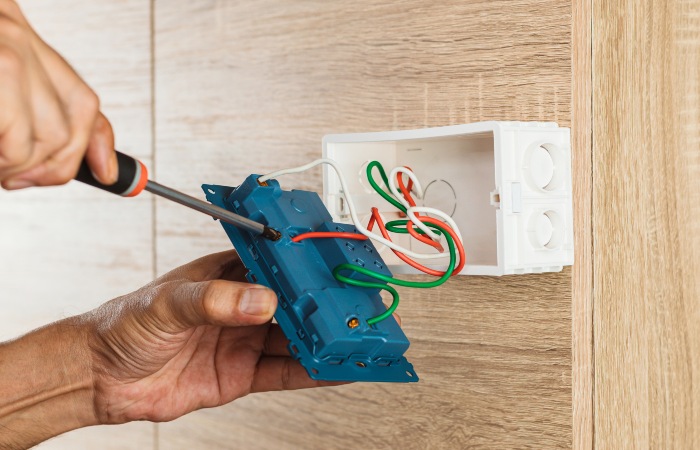 Electrical outlets, or receptacles, come in a range of configurations to accommodate different electrical needs. Here's an overview of some of the most common types of electrical outlets:
GFCIs: Ground Fault Circuit Interrupter outlets are essential in high-moisture areas. They sense abnormal energy flow and reduce the risk of electric shock.
AFCIs: Arc Fault Circuit Interrupter outlets prevent power arcs and minimize the risk of an electrical fire.
USB Outlets: If you have several devices that charge using a USB cable, consider installing one of these specialized outlets.
Tamper-Resistant Outlets: Children will try to play with anything, including dangerous outlets. Tamper-resistant receptacles will give you peace of mind that an electric shock won't injure your little ones.
Smart Outlets: Smart outlets can make your home more convenient! These receptacles make using smart doorbells, smart lighting, and other modern comforts easy.
The Electrical Outlet Installation Process
The electrical outlet installation process involves several steps to ensure each outlet is correctly wired and safe for use. You should never attempt this process by yourself, as the dangers far outweigh any advantages. Take a look at Seidel Electric's basic steps for how to install an electrical outlet:
First, we take all proper safety precautions, such as turning off power and wearing goggles and gloves.
At the chosen location, we cut an opening into the wall and install the electrical box.
Next, we run the electrical cable from the existing source to the new outlet location. We secure the cable in place.
Our electrical experts begin connecting all necessary wires to the outlet. Once everything is in place, we tighten screws as much as possible and ensure no wires are exposed.
After that, we attach the wires to the electrical box and align the outlet with the box's screw holes.
Now that all the interior work is done, we install the outlet cover plate and screw it into place.
Before leaving, we'll test the outlet and perform a final inspection, making sure everything was installed to our high standards.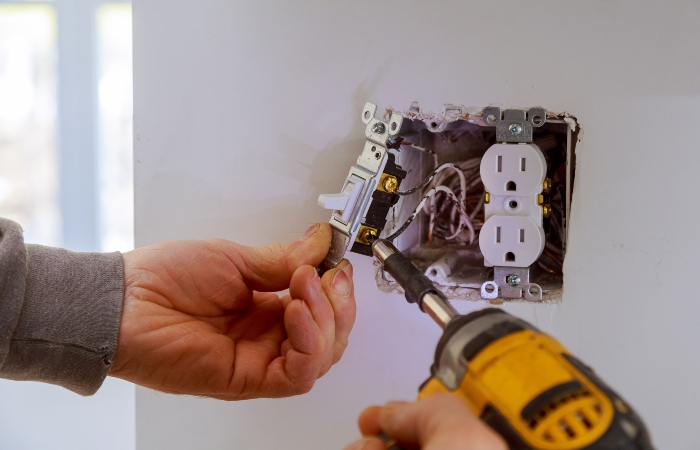 Why Modern Electrical Outlets Are Essential
Modern electrical outlets are important for several reasons, such as safety, convenience, and longevity. If you're questioning the "why" behind installing new electrical outlets, consider these pros:
Enhanced Safety: The number-one reason to upgrade your outlets is safety. Older buildings may not have safety measures like GFCIs and AFCIs, so it's crucial to have them installed as soon as possible. We can also install childproof outlets to keep your kids from getting hurt.
Better Compatibility: Newer outlets are able to support modern technology and a greater electrical load. You won't need to worry about adapters or constantly overloaded circuits!
Energy Efficiency: Are your energy bills skyrocketing? Take some of the pressure off your electrical system with new outlets. Automatic lights can go a long way to reducing your energy consumption.
Durability: Modern outlets are built to last and boast a longer lifespan than older receptacles.
Introduce New Tech: The right outlets mean you can implement smart home features like remote control lighting and entertainment devices. New outlets also maximize your ability to take advantage of new technologies.
What Causes Electrical Outlets to Fail?
Are you wondering whether it's time for new electrical outlets and fixtures? After all, you don't want to install a new outdoor electrical outlet if it's unnecessary. Your best chance at knowing when to replace is learning why outlets fail. If you notice any of the following signs, your electrical outlets may be on the verge of failing:
Exposed or damaged wiring
Loose connections
Visible wear and tear
Constant circuit overloads
Exposure to moisture or excess humidity
Frequent tripped breakers
Rodent damage
Recurring electrical surges
Trust the Team at Seidel Electric
Home renovations, damaged wiring, and aging electrical components all call for upgraded outlets. Thankfully, Seidel Electric is here for home and business owners in Blairstown, NJ. Whether you have questions about installing an electrical outlet inside the fireplace or need to install GFCIs immediately, we can take care of you. We're committed to top-quality service with your interests in mind—contact us to let us know how we can serve you and your family.
Service Area
Serving the Tri-state area
Business Hours
Mon - Sat | 9:00 AM - 5:00 PM