Why Cooling System Flush is very Important
---
Engine Cooling System Flush Service in Blairstown, NJ
Schedule a Generator Engine Cooling System Flush
Your home's generator is a powerful but intricate piece of equipment. If you rely on your generator to provide power to appliances that are outside your electrical grid or for emergency use during a power outage, you want to make sure you maintain it properly. With regular generator maintenance services, you can extend your generator's lifespan and ensure it's ready to go when you need it most. At Seidel Electric, we offer comprehensive generator maintenance services, including generator engine cooling system flush in Blairstown, NJ. A chemical flush of cooling systems can prevent unexpected problems that result in expensive, time-consuming generator repairs.
Learn About a Generator Engine Cooling System Flush
A generator engine cooling system flush can save you from unexpected generator repairs. The generator's cooling system is similar to a car engine's cooling system. It protects the generator's engine from overheating, which could cause a fire, engine damage, or generator failure. Even if you only use your generator during power outages, the cooling system is under a lot of heat and pressure. The ambient temperature of the generator's engine changes rapidly between uses. The cooling system protects the generator's engine during extreme temperature fluctuations. A cooling system flush is part of necessary routine generator maintenance and should be combined with a coolant analysis, testing, and a full generator inspection.
Why a Chemical Flush of Cooling Systems Is Needed
Because your generator is so important, and you want to rely on it to be ready when you need it, you should maintain it even when it's not in use. Scheduling regular chemical flushes of your generator's cooling system will protect your generator and extend its lifespan. A generator engine cooling system flush is necessary because:
Prevent Clogs – Without regular cooling system flushes, your generator can become clogged with particulates that affect how the generator runs. When rust, corrosion, dirt, dust, and other contaminants block internal passageways in the generator, it might overheat, suddenly turn off, or even catch on fire. Flushing your generator with coolant will protect the internal mechanisms and provide corrosion resistance.
Lower Coolant Acidity – The chemical properties of coolant change over time, and coolant can become more acidic and corrosive. This may cause the metal surfaces of your generator to rust and damage important elements of the engine cooling process. Old coolant can even eat through the radiator tubes and cause extreme damage that can't be repaired.
Increase Lubrication – Along with becoming more corrosive, coolant can also lose lubricating qualities over time. Lubrication maintains the delicate parts of the cooling system, such as the water pumps. If your coolant is old and contains particulates, the water pumps might fail, and your generator can overheat or shut down.
Prevent Foaming – Another thing that happens to coolant as it ages is that it becomes frothy. When coolant is foamy, it won't effectively transfer heat away from the generator's engine. The coolant then becomes ineffective, and the engine can overheat.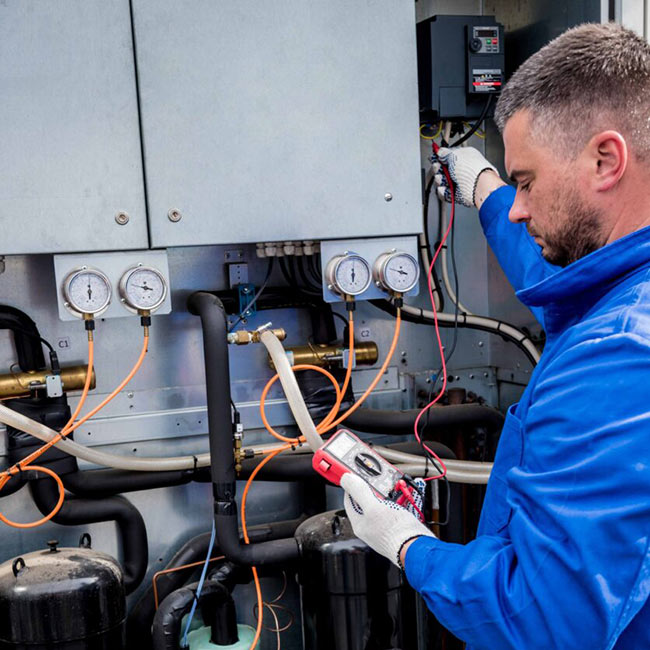 Maintain Your Generator With a Cooling System Flush Kit
You can maintain your generator by scheduling routine cooling system flushes. If you know how to take apart and inspect your generator, you can use a cooling system flush kit to protect your generator. You should regularly do a chemical flush of cooling systems for the best results. Perform a cooling system flush:
Every five years.
When the coolant's pH levels are high.
If the coolant's boiling point or freezing point is out of spec.
When completing repairs of the cooling system, hoses, fittings, and other connections.
Discover How We Flush Cooling Systems in Generators
When we flush your generator's cooling system, we can significantly reduce the risk of damage, overheating, fires, and a complete system breakdown. Our experts know how to flush a cooling system correctly. When we flush a generator engine cooling system, we will use a cleaning solution combined with coolant to flush out any damaging particulates or contaminants. We'll then drain all the coolant from the generator and rinse the system with fresh water. Then we'll refill the generator with fresh coolant. We also thoroughly inspect your generator and evaluate it for damage, problems, and old or worn-out parts.
How Long Does a Cooling System Flush Take?
Many of our customers ask us how long a cooling system flush takes. The answer to that depends on the size of the generator, its age, whether it is damaged, how well it has been maintained, and when it was last used. The process generally takes about 30-45 minutes; however, we sometimes do two flushes to make sure all contaminants and particulates are removed.
Call Today for the Best Cooling System Flush
If you're ready to schedule the best cooling system flush in Blairstown, NJ, call us at Seidel Electric. We offer free in-home consultations where we inspect, assess, and diagnose problems with electrical systems, appliances, generators, and more. Our generator maintenance and generator repair services protect your generator from damage and make sure it will be ready to use when you need it most. Just call us today or contact us online to schedule an appointment.