Why a circuit breaker is important
---
We Repair Circuit Breaker Boxes in Blairstown, NJ
Choose Us for Circuit Breaker Repair
Your home's circuit breaker box is the electrical heart of your home. If something goes wrong with it, you can lose power to all or part of your home. When you have a problem with your circuit breaker box, you shouldn't try to repair it yourself. You need specialized tools, a strong understanding of electrical systems, and years of experience in circuit breaker repair. When you call us at Seidel Electric, you get a team of professionals with years of experience installing, maintaining, and repairing all circuit breaker boxes in Blairstown, NJ. We'll help you avoid injury, safety issues, and electrical problems.
What Is a Circuit Breaker?
Your home is divided into grids or circuits. Each one is zoned to safely handle a specific electrical load based on the electrical appliances used in each circuit. Just like an electrical power distribution grid determines how to safely deliver electricity to homes and businesses across the city, a home's circuit breaker box determines how to distribute electricity throughout the home safely. A circuit breaker pattern establishes how the electrical voltage and current flow through the home's wiring so it can safely deliver the correct load to different electrical appliances. For instance, a lightbulb has a different load capacity than a refrigerator. Trying to distribute a higher voltage and current to a lightbulb than it can handle can result in a fire. When an overcurrent or overload occurs, the circuit breaker box turns the power off to that part of the home's grid.
Understanding the Purpose of a Circuit Breaker Box
A circuit breaker is one of the most important electrical safeguards of the home. The circuit breaker box controls all of the electrical currents flowing through your home to power each room. If one area has too much electrical power directed to it and the home's safety is at risk, the circuit breaker box will cut the power to that area so that you can find the problem and fix it. Without a circuit breaker box, the typical household's electrical consumption would be too extreme, increasing the risk of house fires, wiring problems, and equipment failures. When you need circuit breaker installation or circuit breaker repair, you should always call a professional electrician. When a circuit breaker box is installed, the electrician must follow standard code requirements for power distribution and electrical power. This ensures the circuit breaker box operates correctly, safely, and without error.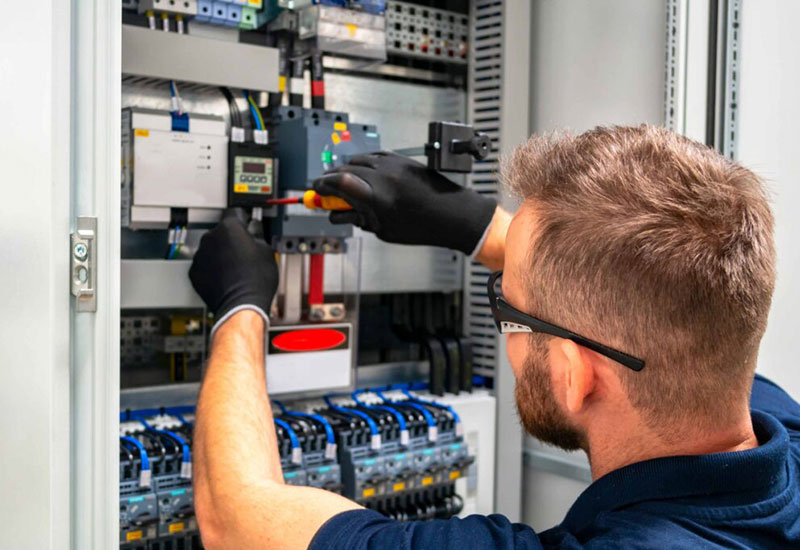 Signs You Need Circuit Breaker Repair or Replacement
You should never attempt circuit breaker repair on your own. There are many different circuit breaker types. Unless you are an experienced electrician who understands circuit breaker patterns, you might injure yourself, cause a fire or breaker overload, or short-circuit your home. When you hire a professional for circuit breaker repair, installation, or maintenance services, the work will be done efficiently, correctly, and safely so your home and your family will stay safe from harm. If you notice any of these warning signs you need circuit breaker repair, call our team, and we'll come over and get to the bottom of it:
You keep smelling a burning smell.
The breakers keep tripping.
Your electrical appliances aren't performing correctly.
The breaker won't stay in reset mode.
Your lights frequently buzz or flicker.
Know When to Upgrade Your Circuit Breaker Type
If your home's electrical load needs to be increased due to home additions, renovations, or remodeling, you will need to call an electrician to upgrade your circuit breaker type. Otherwise, you risk having more electrical appliances in one zone than that circuit can handle, and you'll keep having power outages and short circuits. Overloading your circuit can also increase your risk of fire. A professional electrician can determine if you need to update your circuit breaker type to handle an increased load or change your circuit breaker pattern to direct more power to a certain zone and less power to another. Here are some signs you need to upgrade your circuit breaker:
The circuit breaker box is original to your home; i.e., it's over 30 years old.
You constantly need to flip breakers.
Flipping the breakers has become increasingly difficult.
Your electrical panel doesn't use breakers and uses fuses instead.
The electrical panel is rusted or looks damaged.
Your home doesn't have enough outlets for your needs.
You keep smelling a burning smell for no reason.
The electrical panel is warm or hot to the touch.
Plugging something into an outlet causes it to spark.
The lights flicker when you turn on an appliance like the microwave or dishwasher.
You want to add additional or larger appliances, like a second freezer, a dishwasher, a washer, a dryer, or workout equipment.
You're getting ready to remodel or renovate your home.
You're adding on to your home.
You're converting a basement, attic, or garage into a liveable or workable space.
You need to divert electricity to an outdoor living space or outdoor kitchen.
Explore Our Other Services
In addition to circuit breaker repair and replacement, we also offer other professional electrical services to our community:
Generator services
Electrical installations
Electrical replacements
Wiring services
Home automation services
Home theater services
Schedule an Inspection of Your Circuit Breaker Box
If you think it's time to schedule an inspection of your circuit breaker box in Blairstown, NJ, call us today at Seidel Electric. We'll send a team member to your home for a free in-home consultation. Our team works efficiently to identify and diagnose electrical problems so you and your family can stay safe and get back to your normal routine as quickly as possible. Don't risk damage or problems with your circuit breaker box – call or contact us online to schedule an appointment.