Can I Run a Heat Pump on a Generator?
---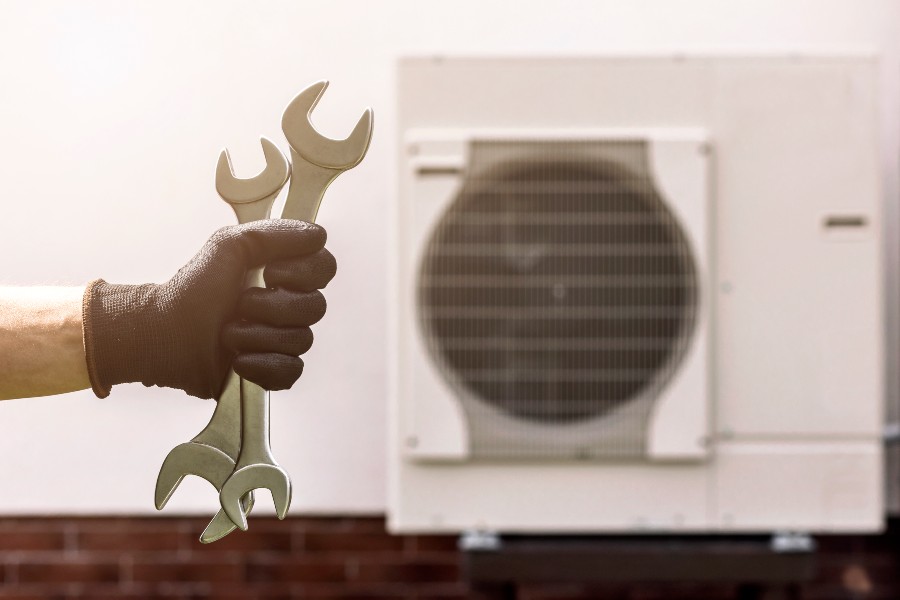 Heat Pumps
A heat pump provides heat in the winter by extracting warmth from outside the house and transmitting it to the inside. In the summer, the process is reversed, and the heat pump takes heat out of your home and sends it outside.
Generators
Generators come in several different wattage sizes. Although there are solar generators and battery generators, most are gas generators, using propane, natural gas, or diesel fuels.
Portable Generators
Portable generators are powerful enough to provide electricity for outdoor activities such as camping, tailgating and other events. They're easy to take just about anywhere and relatively affordable. They can also provide emergency power in the event of a blackout or storm. The wattage produced by portable generators can be a little as 500 watts up to around 5,000 watts, but that won't be enough to run your heat pump.
Whole House Generators
Whole house generators provide a backup for your home's power needs in case of a blackout or storm and are hardwired to your home. They can quickly provide the power your home needs in case of an interruption to your regular power grid, whether through automatic generator transfer switches or manual generator transfer switches.
How to Size a Generator
In order to choose the right generator for your home, you need to calculate the total wattage you'll need to run your heat pump plus any other appliances you'll want to use in an emergency. On most appliances, you'll find a plate that lists the wattage it takes to run, as well as the additional wattage it needs to start. The running watts plus the starting watts equals the wattage you'll need.
Using an example of a heat pump that requires 5400 running watts and 7200 startup watts, you'll need a generator that provides at least 12,600 watts. If you want to run any other appliances, you'll need to add that into your calculations as well.
Conclusion
A portable generator won't have the power to run a typical heat pump, but if you select the right sized whole house generator, you'll be able to keep things running in an emergency.
Seidel Electric Inc. Inc. is a family owned and operated electrical contracting firm that has served the Blairstown, New Jersey area since 1944. We specialize in meeting the needs of our community for residential electrical work, indoor and outdoor lighting, home entertainment lighting, and electrical project design services. Our fully trained technicians meet the highest professional standards in the industry and provide outstanding customer service. We are experts when it comes to reputable generator installation and have earned the designation as a Generac Power Pro Professional company.
If you would like information about the products and services we offer, visit our website or give us a call at 908-760-6941.