Preparing for a Home Generator Installation
---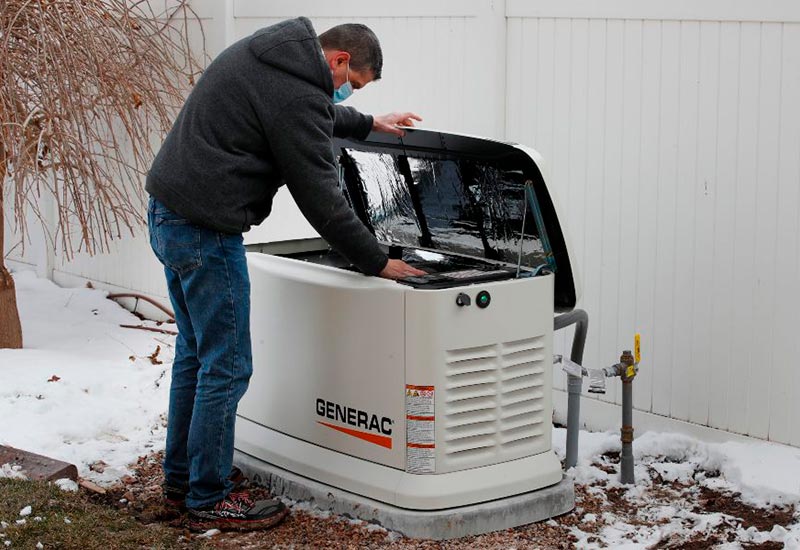 As they say, an ounce of prevention is worth a pound of cure. With the ever-present risk of power outages in the Tri-State Area, safeguarding your home and family begins with installing a Generac home generator. Don't think of it as a purchase when it's really a long-term investment in your family's comfort, safety, and peace of mind. Before buying a home generator, it's important to further understand why you need one and how to prepare for the investment.
The Importance of Home Generators
Power outages are inconvenient at best and disastrous at worst. Without a reliable backup power source, you leave your home vulnerable. Here are three reasons why installing a whole-house generator is a must if you want power during a storm.
Automatic Power Transfer
The moment the electric grid fails, your whole-home Generac generator springs into action, providing immediate power without you raising a finger. This is far more convenient than traipsing out into the storm and starting the generator manually. Instead, you can stay warm and dry inside with only a few-second delay. A generator tied to your home's wiring also ensures a steady and consistent power supply, reducing the chance of power surges that can wreak havoc on your appliances and sensitive electronics.
Security and Safety
Imagine the power going out in the middle of the night. Without a generator, your home's security systems would also fail, leaving you vulnerable. A Generac home generator provides an uninterrupted power source that keeps your alarm systems, surveillance cameras, and other security devices up and running. It also ensures that additional safety and life-critical systems like smoke detectors and powered medical equipment continue functioning, giving you peace of mind during vulnerable situations like storms or grid failures.
Consistent Comfort
New Jersey's weather can be unpredictable. A sudden power outage during a frigid winter night, scorching summer day, or hurricane event can make your home uninhabitable. After all, your furnace, air conditioner, and sump pump need power to operate. A Generac home generator ensures you don't have to endure extreme temperatures or a flooded basement. Plus, appliances like your fridge and freezer will continue working, preserving your food and medication.
Preparing to Install a Generator
Preparation is the key to a successful generator installation. Here's what to consider before making your purchase.
Determine Your Power Requirements
Understanding whole-house generator sizing is crucial for a successful installation. Simply put, you must calculate the kilowatt-hours (kWh) your household requires during an outage. This goes beyond keeping the lights on. Think about your heating or cooling system, refrigerator, microwave, medical equipment, and the sump pump in the basement. Careful calculations ensure you select a Generac generator that meets your needs so you can continue living comfortably, even during a prolonged outage.
Install a Transfer Switch
When the power goes out, the transfer switch detects the interruption and signals the generator to turn on, restoring the lights, heating or air conditioning, and other powered systems within a few seconds. Given the complex nature of modern electrical systems, consulting with a certified electrician is highly recommended. This professional can help you decide what type of transfer switch you need and ensure professional installation and compatibility with your Generac home generator.
Select a Generator
Generac is one of the most well-known names in the backup power industry, offering numerous options to suit different needs and budgets. A Generac home generator's cost is influenced by several factors, including power output, features, and durability. Therefore, choosing the right model is essential for your long-term satisfaction. Discuss your electrical load requirements and desired features with your provider. Their expertise will help you match your needs with an efficient, easy-to-maintain generator.
Placement and Maintenance
Determining where you'll install your generator is crucial for both safety and functionality. Your generator needs a level, well-ventilated space situated a safe distance from windows and doors to prevent exhaust from entering the house. Periodic maintenance checks are equally important, so choose a location with convenient access. Recommended generator maintenance includes routine inspections, oil and filter changes, cooling system flushes, and function tests to check for potential issues. Follow the manufacturer's guidelines to prolong the life of your generator and ensure it's ready when you need it.
Choose Seidel Electric Inc. For Generac Generator Installation
Seidel Electric Inc. has served Blairstown, NJ, and the surrounding Tri-State Area since 1944. As a Certified Select Generac PowerPRO Dealer, we bring unparalleled expertise to every generator installation we perform. With our family-owned and operated business, excellent customer service is a guarantee. Don't leave home comfort and safety to chance—let us power your life with a new Generac generator! To request an installation estimate, please contact us today at (908) 362-6191.